Forum Affiliates
Draxion's Gaming Den
Underground Lies
Where the Ocean Lies
If you would like to become an affiliate, private message one of our head admins or post in our guest-friendly board with a request.
Top posting users this week
Most active topic starters

Name:
Sharpkit
~
Sharppaw
~ Sharpfire
Age:
60 moons
Gender:
She-cat
Position:
Deputy
Clan:
FireClan
Alive Family:
Foster Mother, Mistypelt, open. Mother, Lilyheart, open. Father, Ravenwing, open. Sisters, Hollyflower, making later. Half-sisters, Dovepaw (Dovefeather), Ivypaw (Ivymoss), making later. Brothers, Jaytalon and Lionclaw, making later.
Deceased Family:
Half-Sisters, Featherpaw, Mosspaw, starved.
Description: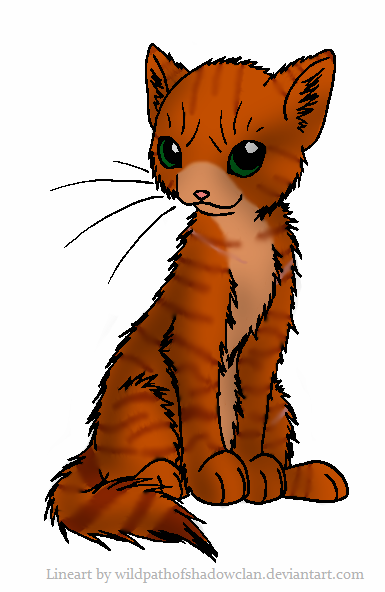 Red pelt with a white sock, yellow eyes, slim, long legs, long tail, slightly fluffy, medium sized ears.
Physical Abilities:
Out of 10: Fighting, 8. Hunting, 6. Swimming, 5. Memory, 7.5. Strength, 7. Climbing, 6.5. Speed, 6. Stamina, 8.5.
Personality:
Sharpfire is a strong cat, and will only fight needed battles. She is loyal to the end, and has never broken the warrior code like her parents. Sharpfire is a good hunter, as she is good at pouncing and attacking. She isn't that stealthy, as her bright orange pelt stands out a lot, but she is good at stalking. Sharpfire has a pretty good memory, and is quite fast. She is okay at climbing, from her mothers side, and swimming, from her fathers side.
Likes & Dislikes:
Likes: Hunting, Fighting, Swimming, Her Sisters. Dislikes: Her mother, her mothers sister, her father.
History:
Kit: Sharpkit was thought to be born by Mistypelt, the medicine cat (Lilyheart)'s sister. Her father was always unknown - he was actually a StreamClan warrior. She was a playful kit, and always liked playing.
Apprentice: Sharppaw realised that Mistypelt wasn't her mother, but kept it secret that she knew. She set out to find her father, but only realised it was Ravenwing when she got back to camp. Soon finding out her mother was Lilyheart and her father Ravenwing, her parents were breaking the warrior code in two different ways.
Warrior: She always kept it secret that she knew about her parents, not even telling her siblings. Sharpfire was always determined to become deputy, then maybe leader, but she never wanted to kill. She always never liked Mistypelt, Ravenwing and Lilyheart, but she pushed that aside.
Deputy: When she became deputy, Sharpfire carried on, and tried to be the best deputy possible.

Quake

Other Roleplay Leader





Posts

: 73


Join date

: 2015-07-01


Age

: 13


Location

: england



Yayyyy you'll be mah deputy




Blossomtail

Newborn




Posts

: 57


Join date

: 2015-07-16


Age

: 22


Location

: Leader's Den HAH




Quake

Other Roleplay Leader





Posts

: 73


Join date

: 2015-07-01


Age

: 13


Location

: england



Technically this was not accepted,  so :http://images.

---
Permissions in this forum:
You
cannot
reply to topics in this forum